With Domotex, one of the largest flooring fairs in the world, coming up in a week I have to talk about rugs some more – particularly TISCA again! I hope that you enjoyed reading part 1 about my visit to Transylvania. For this post, I'll take you deeper into the brand exactly how I experienced it in their manufacturing headquarters in Transylvania.
TISCA owns a series of buildings nearby to the charming city of Sibiu where they produce rugs made with pure virgin wool, with a separate collection created from certified organic wool – it's up to the customer to pick the type of wool that they would like and whether they want dyed wool or natural. The rugs are easy to clean, reversible, and because they are made on looms by an actual weaver, no two are alike.
TISCA wool is sourced carefully from both local and global dealers, even from Lüneburger Heide (in my region here in Germany) and from New Zealand and places where only the best wool is found. But not all rugs are wool, some are blended with other materials like linen, jute, cotton, mohair and sisal. The variations are both beautiful and impressive.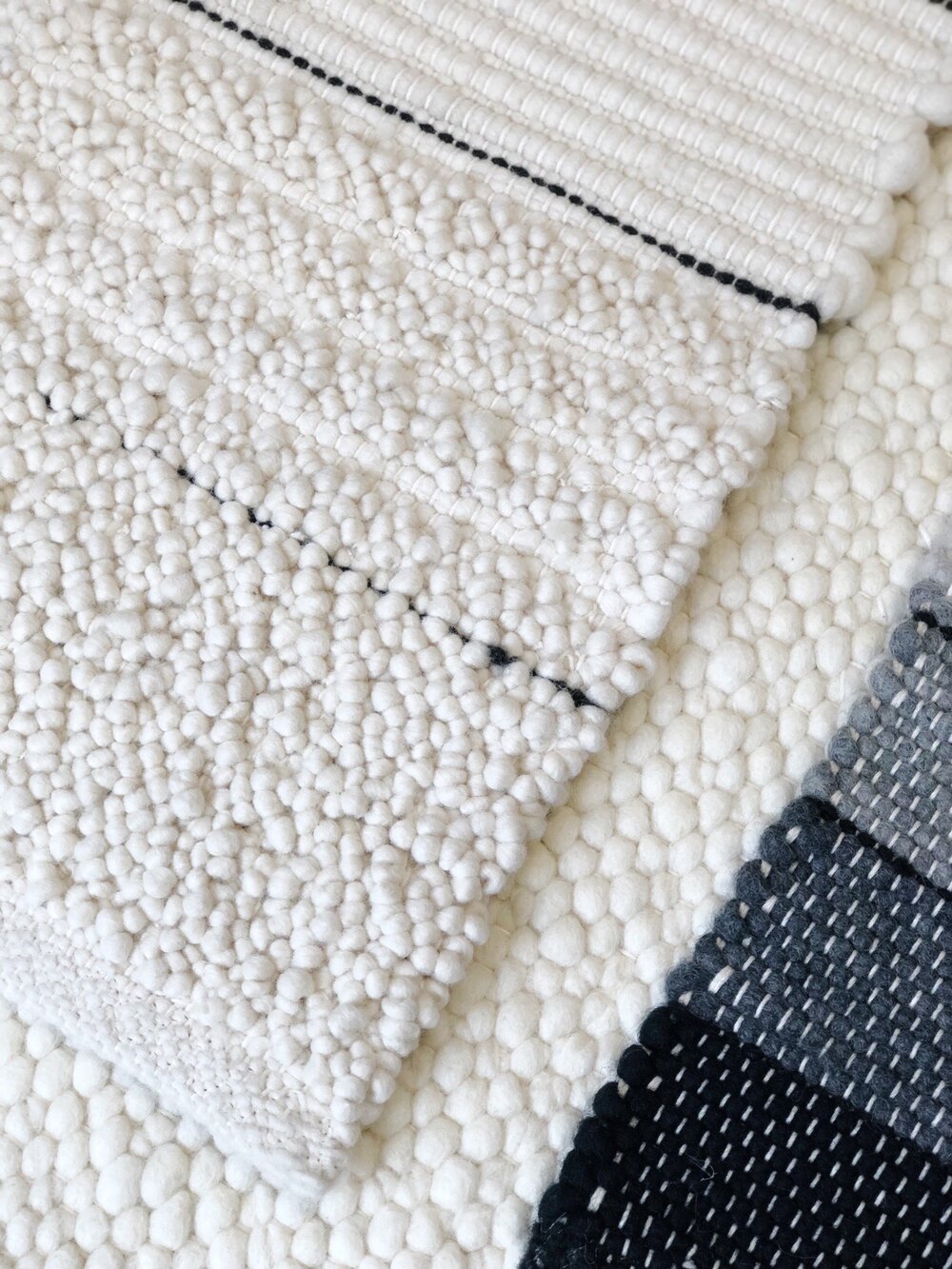 There is also the possibility to purchase a rug made from wool that hasn't been dyed and in those cases, you are getting a very special, bespoke piece – no two rugs ever look alike due to the variations in color.
Another option is that you request a rug dyed in one of 96 different colors. Wow! It is hard to NOT find your favorite color when faced with such an impressive selection!
And of course, TISCA offers customers the option of placing a custom order, from color to pattern to size. It all comes down to what you want to fit your room scheme and lifestyle best.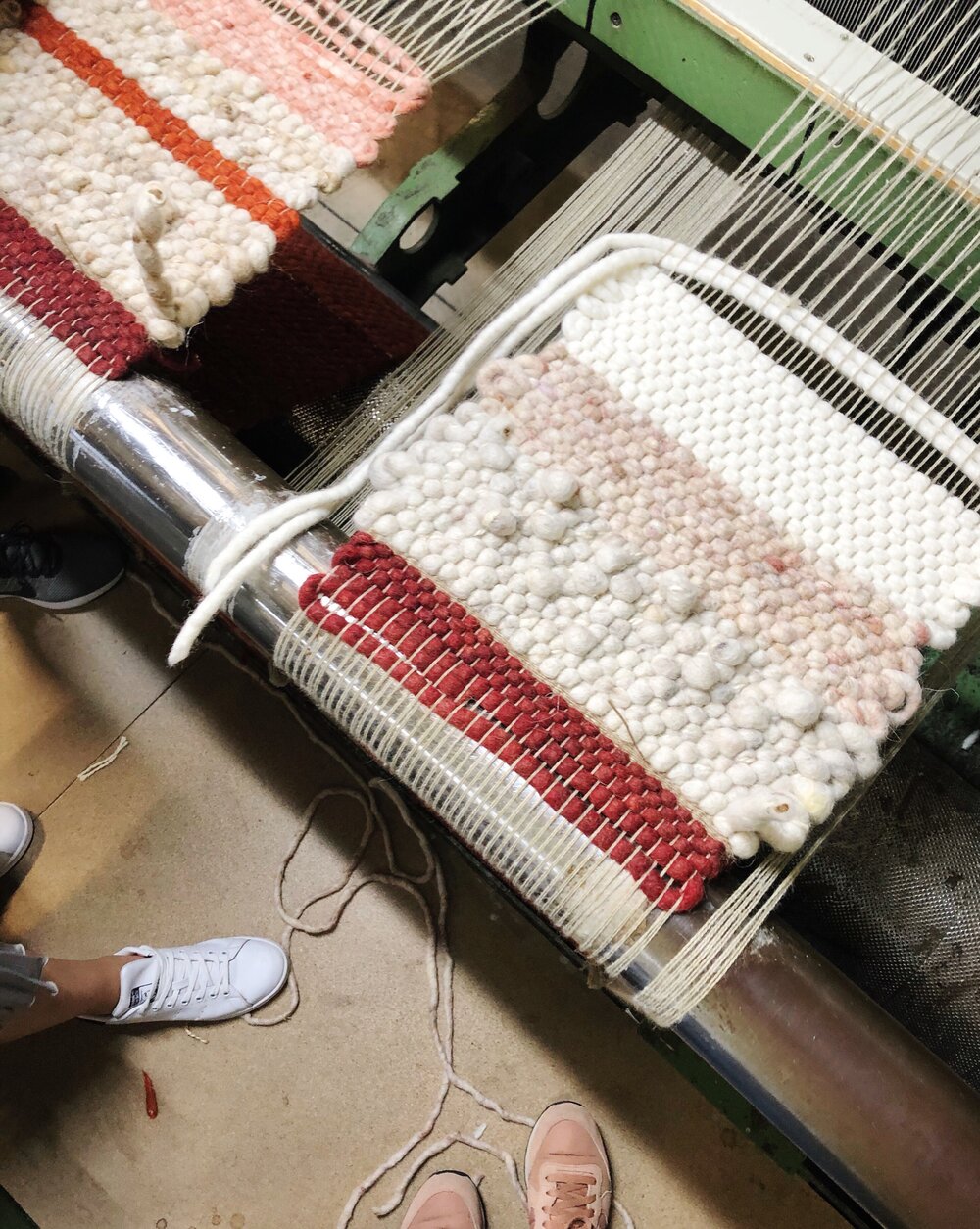 A huge highlight for me during the tour in Transylvania was when we were each invited to work on a loom to create our own mini rugs (I turned mine into a little wall hanging). We spent several hours on this project and I quickly released that I loved it and would be delighted to learn this as a hobby and do it regularly. It really touched my heart and made me feel grounded, focused and surprisingly very relaxed. It was unlike any craft I've tried before and I connected to it immediately. I loved the creativity involved and that I was witnessing the birth of something made by me that I could hold up and say, "I made this!", and feel a sense of pride. It's a good feeling to make something by hand, isn't it?
Being at the loom also taught me how much work and how many days goes into making a single rug. When you are made aware of this, you no longer feel comfortable trying to negotiate a lower price on a product so special. In fact, it almost feels sacred and you are honored to be able to own one; happy to have something in your home that carries such good energy in its DNA.
After making mini rugs, we were invited on two different tours, and our group was split into two though each group participated in both tours at two separate times. This was where we each were able to share the experience with our audience on Instagram Stories through photos and videos, and of course, invited to take notes as we were guided by Andreas Honer, CEO, through the various rooms. I enjoyed witnessing first-hand the step-by-step process of rug making, from the time the wool arrives until the moment it is finished and shipped off to a client.
It's not often that the CEO gives you a grand tour and spends several days with bloggers – what a great man!
Wool that has been cleaned and prepared, waiting to go to a weaver.
Where the wool is cleaned and prepared
Wool in process, being sorted.
Wool being hung to dry
So may colors to choose from!
The weavers complete around 3,000 rugs each year this way there at TISCA. An abbreviated version of their manufacturing goes a bit like this…
When it comes to making a wool rug, first, there is carding. This is a mechanical process that disentangles, cleans and intermixes fibers to produce a continuous web that can move on to the next step.

Next, is spinning which is again mechanical, where machines spin the wool.

Then it's time to go to the fulling mill where the wool is cleansed to eliminate dirt, oil, sand, and other things, which will automatically thicken it.

After, it is hung to dry in special rooms.

Finally, the woolen yarn is wound onto a weaving shuttle and passed on to the maker who will be responsible for creating the rug. She will be informed of everything about it – the colors, the border, the patterning, the size, and everything that she needs to know to personally fulfill the order…

Then the weaver gets to work. She will work on the same rug from start to finish – only her.

The rug is then weighed, measured, cleaned and inspected.

Once it has passed inspection, it is finished with a triple-stitched textile border.
I was so impressed by this company, experiencing the process of rug-making, and the overall beauty of the finished product. It was an unforgettable experience!
I can't wait to visit TISCA and their stand at Domotex this weekend – I am definitely looking forward to seeing them again – they treated our blogger group like royalty and I'll never forget it. Later this month, I'll share some travel highlights with you here on decor8 with some of my favorite places and things from Transylvania in case you'd like to visit – it is definitely a place I'd visit again!
I'll never forget this experience or trip – it changed how I view rug manufacturing and how I only want to buy the best for my own home going forward – something made with a heart – like at the beautiful and honorable TISCA.
Love,
Holly
(Photos/Text: Holly Becker for decor8)
(This post has been written in collaboration with TISCA. All views and opinions are my own. Thank you!)