Let's tour a pretty Berlin apartment on this cloudy winter's day because this space feels cozy and loved. Claudia Böttcher is a Freelance Photographer and Blogger who is actively sharing her interiors life online, and also on her instagram @doitbutdoitnow so definitely follow her there for daily inspo. She lives with her boyfriend and cat in a well-edited 97 qm, 3 room apartment and to her, home means mostly working (she works from home mainly) and chilling, "It's the place where I feel safe and the most comfortable," says Claudia.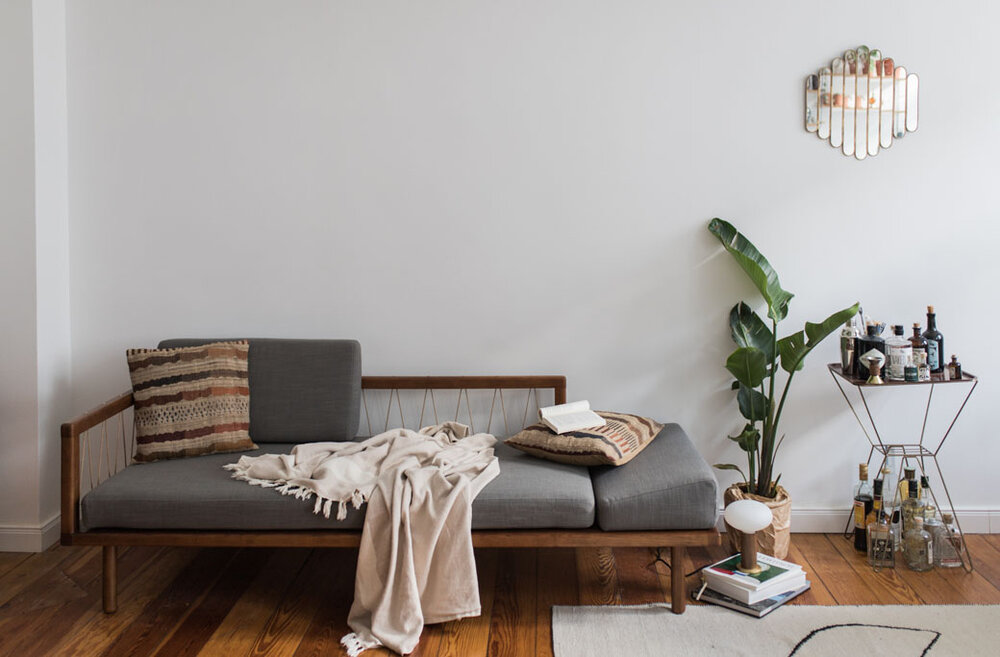 In her lovely space, Claudia adores her high ceilings with stucco, the classic old windows and all of the natural light, because it's really bright when the sun is out and this makes her happy. Despite what we love, we all want to change something about our homes, and for Claudia the first change would be MORE SPACE (yes, that's always what we want!) and a bigger bathroom and kitchen but also a, "calmer floor" since she thinks it's quite loud living on an old wooden, creaky, floor. Though I'm guessing it's also part of the charm of living in an 100+ old building.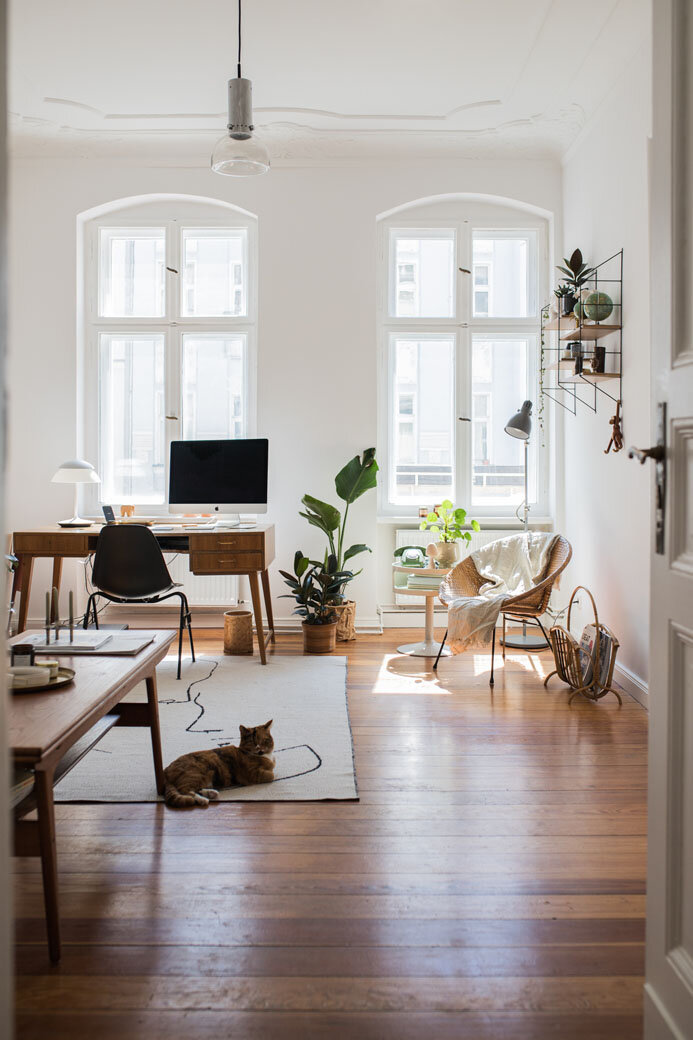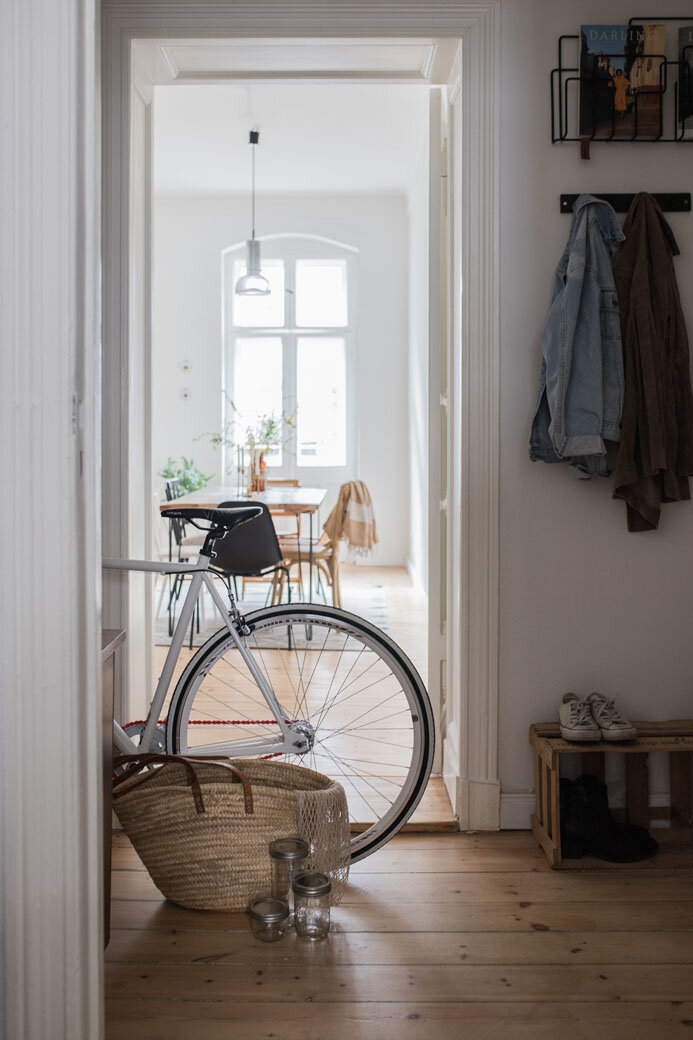 I asked Claudia to describe her style, "Typical Berlin vintage flair with design classics and a sustainble touch with natural materials and colors." Yes, I agree, don't you?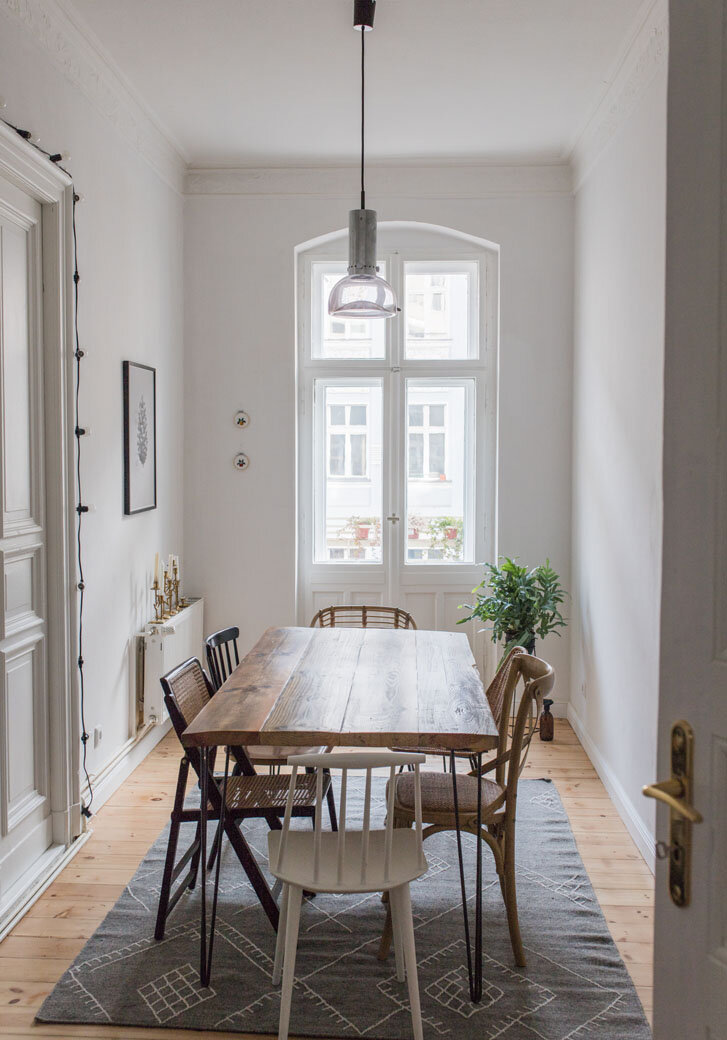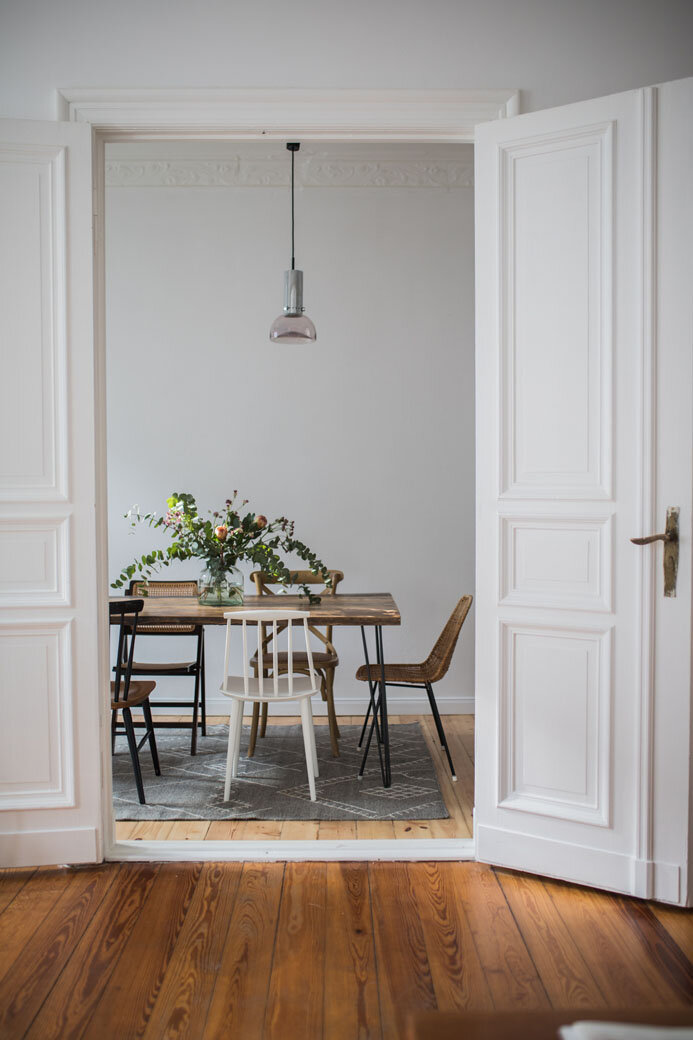 Now onto he favorite things, because I always love to know more about the person behind the space. Claudia gave me a lovely little list that I could share with all of you. So here we go….
Favorite candle/scent: P.F. Candle – Amber & Moss
Favorite flowers and plants? Eucalytus and Monstera
Favorite thing to do at home? Binge watching with the cat, make coffee (trying latte art) and of course always decorating 😀
Favorite meal to cook and why? Potatoes with sourcream because it's easy and I really love potatoes!
Favorite songs on your playlist? Dennis Lloyd – Never Go Back / Billie Eilish – Bury a friend / Feine Sahne Fischfilet / Zuhause Alligatoah – Du bist schön/ Drake – In my Feelings
Favorite thing to do when you have friends over? Always cooking, love to decorate the table and sit there for ours and talk (sometime with games).
Your favorite dream piece… A Knoll Tulip Table for the tiny kitchen!
Favorite city to shop and why? San Diego, California. Always inspiration, always sunny and really great style and taste there.
Your favorite Instagram accounts are… @Herz.und.Blut @Lieblingsmadchen @Eatthisorg @Bloggaibagis
Thank you so much Claudia for this lovely peek into your home life. Have a relaxing weekend everyone!
Love,
Holly
(Photography: Claudia Böttcher)